Cazador Beats 180 XL kids youth side x side UTV dune buggy Automatic
Cazador Beats 180 XL kids youth side x side UTV dune buggy Automatic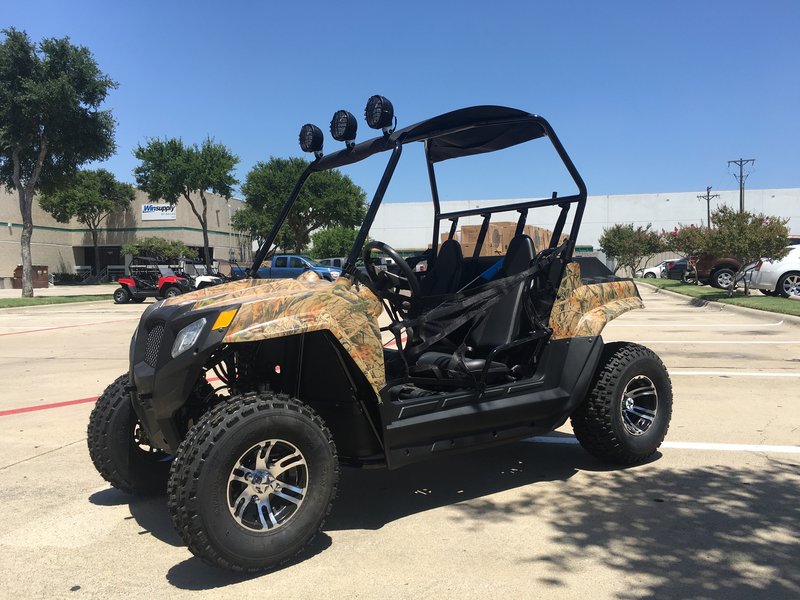 Kids Youth Size Cazador 180 Beats Side by Side, Brand New Gas Powered Utility Vehicles, Tuned, Tested with Warranty. Exactly the same as Polaris but better. Includes: Digital Speedometer/Odometer, 170cc Oil Cooled Engine, Electric Start, Fully Automatic Transmission with Reverse, Headlights, Rear Cargo box, Adjustable Bucket Seats with 4-Point Harnass, Horn, Hydraulic Disk Brakes, Adjustable Throttle/Speed Limiter, double wishbone suspension, etc, etc.
Recommended height 3ft 10in – 6ft (Adjustable Seats) Also Have Smaller & Larger Utility Vehicles aswell.
Includes: (2) Keys, Factory Documentation, Instructions, 6 Month Warranty, Bill of Sale, & Title .
Colors: Camoflage (Vista Camo), Red, Blue, Black, White, Burgundy, Yellow, Green, Pink, Red Spider, Blue Spider & Black Spider.
Additional Options:
Deluxe Version – $199 (Includes Front Bumper, Top Lights, Roof, Upgraded Wheels & Upgraded Seats)
Windshield – $50
These are Brand New "Right out the Crate" (Still have the plastic on them) They are Professionally Tested & Ready to ride after assembly.
Model Cazador 180 XL
SPECIFICATION:
Engine Type: 4-stroke, Single-Cylinder, Oil-Cooled, automatic
Displacement: 169cc
Horse Power: 6.0kw(7500r/min) 8.2 HP
Valve Configuration: OHV
Compression Ratio: 9.0:1
Fuel Capacity: 2.1 Gallon
Final Drive: Chain-drive
Gear Selection: Forward & Reverse Single Speed
Forward Lights: Headlights-LED Trim
Rear Lights: LED Brake & Signal lights
Starting System: Electric Start
Suspension Front: Dual Shock Swing Arm
Suspension Rear: Dual Shock Swing Arm
Brakes Front/Rear: Dual Hydraulic/Single Axle Hydraulic
Wheelbase: 48 inches
Length: 94 inches
Height: 64 inches
Front Tire Size: 22x7x10
Rear Tire Size: 22x10x10
Top Speed: 45 M.P.H. adjustable
Dry Weight: 450 LBS
Ground Clearance: 7 inches
Driver & Passenger Seat belts/ Driver and Passenger safety net restraints

Reviews