Predator XL 400cc 4 Seater LSV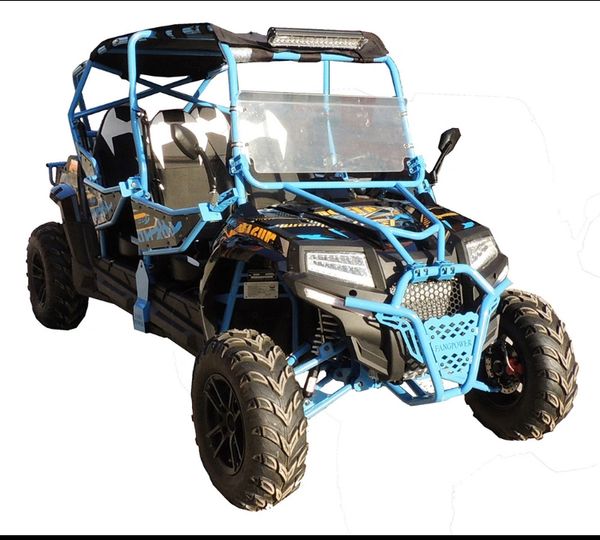 Predator XL 400cc 4 Seater LSV
The Blue Line Industries Predator 400 XL-4 Seater UTV is an off-road and street legal LSV four-wheeled vehicle that can help you complete work tasks, commute to your local downtown area or have some off-road fun. UTV's ease of use and low cost make it more popular. If you are using or considering the purchase of a pickup truck or tractor for your off-road tasks, you may want to ask yourself if you'll utilize its full capabilities, or whether you're paying for extras you don't need. UTVs are easy to operate. Many jobs are completed by one or two people with a few tools and materials. These jobs don't require fast, heavy, high capacity, not to mention expensive, equipment such as trucks and tractors. Utility vehicles are compact, safe, require very little training, and are easy to use - all at a fraction of the cost to buy, maintain, and insure as larger vehicles. Utility vehicles can easily carry two people, their tools, supplies or materials, and a modest trailer to their destination easily. They are lightweight, easy to ingress and egress, and consume very little fuel. You can add to their capabilities with countless accessories and upgrades like lighting, canvas roof for protection from the sun, racks & storage, power assist, tires & wheels, winches, excellent ground clearance, Bluetooth stereo and much more.


MODEL                PREDATOR 400 XL-4 SEATER Street Legal LSV Golf Cart Community
COLOR
Red/Blue/ Orange/Green

Specifications

Model: Predator 400 XL 4-Seater
Engine: single cylinder, 4 stroke, water-cooled, OHV
Displacement: 311cc
Transmission: Automatic CVT with reverse
Shift Gear: Hand Shift
Gearing: F-N-R
Drive System:: Shaft 4x2
Fuel Delivery System: Fuel Pump with Vacuum Diaphragm Carburetor
Choke: Two Chokes System / Automatic
Max Speed: Off-road model 45 MPH
LSV Street Legal is 25 MPH
Horse Power: 18kW (6500rpm) 25HP
Starting system: Electric
Ignition: CDI
Battery: 12V/12Ah
Gauges: LED Speed/Fuel meter
Lights (Front/Rear): Headlights High and Low Beam / Brake Lights and Left/Right Turn Signal lights
Fuel Capacity: 2.1 gal.
Brakes (Front/Rear): 220mm Dual Hydraulic Disc / 220mm Dual Hydraulic Disc
Tires (Front/Rear): 25x8-12 / 25x10-12
Suspension (Front/Rear): Double A-arm Suspension / 4-Link bar Rear Suspension
Features: Driver and Passenger Seat belts/ Driver and Passenger safety net restraints Roof light, Adjustable front suspension, rack and pinion steering, aluminum rims, steel doors, front bumper, windshield
Max load: 930 lbs.
Net Weight: 1102 lbs.
Gross Weight: 1234.6 lbs.
Wheelbase: 78 inches
Dimensions (LxWxH): 132.3x57x68.9 inches
Shipping Dimensions (LxWxH): 117.3x55.1x32.1 inches
Min Ground Clearance: 11.8 inches
Approved Certificate: EPA / CARB



Safety
Driver & Passenger Seat belts/ Driver and Passenger safety net restraints.
Reviews